Welcome to the
Montgomery County Historical Society
Preserving Montgomery's Past for Its Future
Welcome to the Montgomery County Historical Society.  We are pleased that you found us, and hope that you will enjoy the efforts we have made to show our best face in an interesting way and perhaps give you an insight into Montgomery's  history.
Montgomery dates from the 1820s, about 5 years after Arthur Moore built a cabin on the bank of the Alabama River.  Moore was the first white man to settle here.  However, there had been Muskogee Indians living in the vicinity for centuries.  When Andrew Dexter arrived a few years later, Moore had moved on westward.  It was Dexter who first purchased land at the Milledgeville Land Office for property in what is now Montgomery, but first called New Phildelphia.
We attempt to present our history as it happened, as far as we can discover from the records left us by ancestors.  We have no interest in the trend to give history a modern slant, based on the thoughts and interpretations of the current standards.  History is as it happened at that time.
We do not know how or why people in various sections of the country thought a certain way years ago, but they were for the most part intelligent citizens and their decisions were carefully considered to fit their situations.  It is not our prerogative to judge, only to preserve and collect for future research and cultural edification.  We learn from the past,  so we preserve the past, to help us to not repeat mistakes of the past.
In The News…
Our Mission
The Montgomery County Historical Society, formed in 1992, is a tax-exempt non-profit organization.  Our mission is to document the history of Montgomery County, Alabama, by collecting, preserving and providing access to its historical records, photographs and artifacts; to foster research; and to educate the public through the proposed Montgomery Museum of History.
Because our facilities are housed in the historic Figh Pickett Barnes School House, which in the early twentieth century was the home of the Barnes School for Boys, the Historical Society also seeks to collect and preserve the records of the school and its former pupils.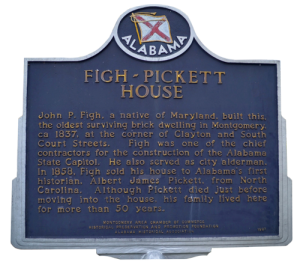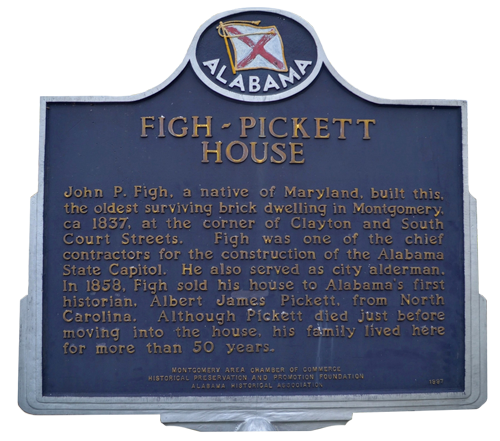 MCHS is a group dedicated to saving and restoring Montgomery's oldest existing brick house, the Figh Pickett Barnes School House, built in 1837.
We preserve Montgomery's history by assisting with the archiving and maintaining of a vast number of photographs, books, scrapbooks and data from our past.
Our extensive archives and reference material library are available for historical and genealogical research. We will also store and protect you own family archives in our controlled environment.