Talk by Phillip Taunton, Sexton, To Montgomery Genealogical Society, Fall, 2011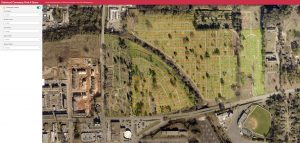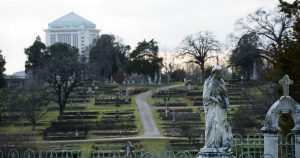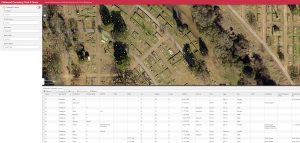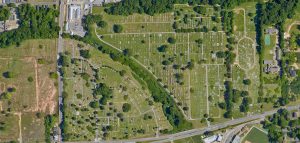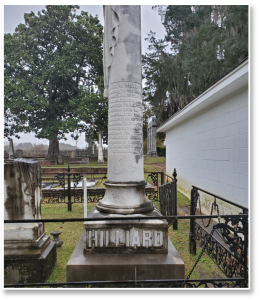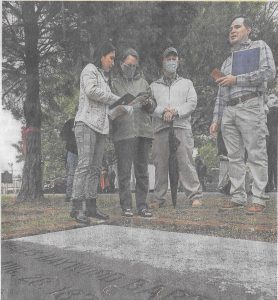 Thank you for this time you have given me to talk to you about some of the many notable people that are buried at Oakwood Cemetery. I have been blessed to work at Oakwood Cemetery, Montgomery's richest historic site. For twenty-two years I have been blessed to dig deep in history of Montgomery at Oakwood Cemetery, which was established by donations of land given by the two founders of Montgomery, Mr. Andrew Dexter, and Mr. John Scott.
Because Oakwood Cemetery served Montgomery from this city's inception, there was little need for churches or families to develop private cemeteries. The first known interment in Oakwood Cemetery in 1818 was Mrs. Mary Pouncey Jones, and before 1900, the majority of citizens who died were interred at Oakwood Cemetery. It was open to all of this city's people. Many soldiers and prominent statesmen who shaped our history as well as ordinary citizens, felons, and many unknowns have been interred at Oakwood Cemetery. The cemetery is over one hundred acres in size and has a population of over one hundred thousand.
So many people that visit Oakwood Cemetery think that it's just one cemetery, but it's actually many cemeteries, which include Old Oakwood Cemetery, St. Margaret's Catholic Cemetery. the Land of Peace Cemetery, which is the old Jewish Cemetery. It also contains the Eternal · Cemetery, which is the newer Jewish Cemetery, and Oakwood Annex, where Hank Williams is buried.
Today Hank Williams' grave is the most visited grave, but we also have many other notable people that contributed to society, and their graves also attract visitors from all over the United States and even from many other countries.
The two lines of French and English pilot trainees killed during WWII lie near Hank's grave and are beautifully kept by societies here. They are also the reason for a number of foreign visits.
I mentioned the two founders of Montgomery, Mr. Andrew Dexter, and Mr. John Scott. Their families are both buried at Oakwood Cemetery, but Mr. Andrew Dexter died of yellow fever while visiting Mobile and was buried in an unmarked grave there (in Mobile). Also, the other founder of Montgomery Mr. John Scott, was buried on his plantation at Pintlala Creek.
Four of Alabama's governors are buried at Oakwood Cemetery. These include: Governor Thomas Hill Watts, Governor Benjamin Fitzpatrick, Governor Thomas Goode Jones, and Governor William Calvin Oates.
Governor Thomas Hill Watts was the governor of Alabama from 1863 to 1865, during the War Between the States. His home was at the location of the old St. Margaret's Hospital.
Governor Benjamin Fitzpatrick was the governor of Alabama from 1841 to 1845. He was also a United States Senator. He was nominated for Vice President of the United States on the Democratic ticket with Stephen Douglas in 1860, but he declined the nomination. Benjamin Fitzpatrick also practiced law in Montgomery.
A famous lawyer and soldier, Governor Thomas Goode Jones, served the Confederacy as a Major, was also a Captain of the Montgomery Greys in 1876, and served as Colonel Second Regiment of Alabama State Troops in the 1880s. He represented Montgomery in the Legislature and served as Speaker of the House. Governor Jones served two terms as governor of Alabama and was President of the Alabama Bar Association. He was also appointed United States District Judge of the Northern and Middle Districts of Alabama by President Theodore Roosevelt. The Jones School of Law at Faulkner University in the city is named after Governor Jones.
Governor William Calvin Oates was an attorney. He joined the Confederate Army in 1861 as Captain of the Fifteenth Alabama Infantry Regiment and as a Colonel in the Forty-Eighth Infantry Regiment. He lost his right arm near Petersburg, Virginia. In 1868, he got involved in politics as a delegate to the Democratic National Convention in New York. He was elected to one term in the state legislature. He was elected in 1880 to the United States House of Representatives until 1894 when he was elected Governor. President William McKinley appointed Oates Brigadier-General during the Spanish-American War. The four governors' graves are frequently visited graves.
There are the three Confederate Generals that were buried at Oakwood Cemetery. They are: Brigadier General James Holt Clanton, Brigadier General James Thaddeus Holtzclaw, Brigadier General Birkett Davenport Fry.
Oakwood Cemetery also has the graves of two Revolutionary War Soldiers- John Caffey and George Gray McWhorter.
Colonel Tennant Lomax– who was Montgomery's Civil War hero. He was killed in action in the Battle of Seven Pines, Virginia on June 1, 1862- which was the same day that his commission as Brigadier General arrived on the battlefield.
Josiah Morris, who founded a bank in Montgomery and who also helped plan, finance, and found the city of Birmingham.
Albert James Pickett – who is recognized as Alabama's first historian was buried at Oakwood Cemetery in 1858.
Charles Teed Pollard, who helped finance the Confederate cause. Mr. Pollard was a founder of St. John's Episcopal Church, and President of the Montgomery & West Point Railroad. He also chaired the committee for construction of the State Capitol building here in the city.
Sarah Parker Herron from London, England, who was one of the faithful workers at the Ladies Hospital in Montgomery which cared for Confederate Soldiers.
Henry Washington Hilliard – who led the 60th Alabama Infantry Regiment, which was known as Hilliard's Legion. He was a colonel, an author, lawyer, Congressman and U. S. Minister to Brazil.
William Lowndes Yancey – who was a journalist, politician, orator, diplomat, and a major leader of the Southern secession. He was appointed by Confederate President Jefferson Davis to head a diplomatic delegation to Europe in the attempt to secure formal recognition of Southern independence He also served as a Confederate States Senator.
William Burr Howell – who was the father of Varina Howell (Mrs. Jefferson Davis) and who was buried here in 1863.
General Crawford M. Jackson – who served in the Alabama Legislature as a member of the House of Representatives and was Speaker of the House in 1857.
Colonel Robert Fullwood Ligon – a Captain in the Mexican War, a member of the U.S. Congress, and a Captain of the Confederacy.
Judge William Perrish Chilton – a prominent lawyer and political figure in Alabama. He was Chief Justice of the Alabama Supreme Court, and a member of the provisional and regular congress of the Confederacy. Chilton county, in Alabama was named after him.
Nicholas Hamner Cobbs – the first Episcopal Bishop of Alabama and Rector of St. John's Episcopal Church.
General Elisha Y. Fair – A United States Minister to Belgium.
John Falconer – Montgomery's 1st Postmaster.
Captain Abraham Calvin Caffey – Commander of the Capital City Guards in the 1890's, and a prominent black businessman.
Dr. William 0. Baldwin – A distinguished Montgomery physician and banker, who served as President of the American Medical Association.
Dr. Carnot Bellinger – who started and donated the "First Soldier's Home", a Confederate Hospital at his home in Bellinger Heights.
Nimrod Benson – a Mayor of Montgomery, who was one of the three building commissioners named by the Legislature in 1850 to supervisor the building of the State Capitol. He was a circuit judge, and legislator.
Benajah Bibb – a prominent jurist and supporter of the Confederacy, and his wife Sophia Gilmer Bibb-who organized the "Ladies Memorial Association" which buried many Confederate soldiers, 211d erected headstones for the Confederate soldiers. The local Daughters of the American Confederacy DAR was named for Mrs. Bibb.
William Knox – banker at the Central Bank m Montgomery, which helped finance the Confederacy.
James Hale – A former slave who was an extremely successful contractor after his emancipation, and was known as the wealthiest black man in Montgomery in the 1880's. He built Hale's Infirmary in memory of his two children who died as young adults. James Hale's daughter married Dr. Cornelius Dorsett, who came to Montgomery in 1883 as Montgomery's first black physician.
Hilary Abner Herbert – who entered the Confederate Army as a 2nd Lieutenant, served as Captain of the Greenville Guards, and as a Colonel of the 8th Alabama Infantry Regiment- after the War Between the States – Hilary Herbert was Secretary of the NAVY under President Grover Cleveland.
John Schockler – Many people who visit Oakwood Cemetery want to see John Schockler's known as "the water grave. He drowned in the Alabama River and his stone reads, "Stop as you pass my grave. Here I, John Schockler, rest my remains, I was born in New Orleans, the 22nd of Nov.1841; was brought up by good friends; not taking their advice, was drowned in this the Alabama River, the 27th of May 1855. Now I warn all young and old to beware of the dangers of this river. See how I am fixed in this water grave; I have got but two friends to mourn."
John Gindrat– a Mayor of Montgomery, a banker and a member of the Board of Directors of the Montgomery and Chattahoochee Railroad. Mr. Gindrat built the Winter Building in Montgomery.
The Hill Family – In West Oakwood, there is an Italian marble statue and monument one of the nicest in the cemetery that marks the graves of Luther and Mary Hill and their children, many of whom died of the scarlet fever epidemic.
The Wreford family underground mausoleum is also a favorite at Oakwood. It was built by Samuel Wreford, who operated a mercantile business on Dexter Avenue. This mausoleum built for the family with eight members, but he was the only one buried in this mausoleum in a casket made of cast iron in the shape of a canoe.
Justice Anthony D. Sayre – The father of Zelda Sayre, who married F. Scott Fitzgerald.
Victor Tulane – A prominent black Montgomery businessman who was born in Elmore County and delivered groceries before opening his very own grocery store. In 1905 he built the Building at High and Ripley Streets, was a cashier of the Penny Savings Bank, a druggist, and a member of the Board of Trustees of Tuskegee Institute.
Colonel Robert Tyler – Confederate Register of the Treasury and the son of United States President John Tyler.
Justice Abram Joseph Walker – Chief Justice of the Alabama Supreme Court.
Jack Thorington – A Mayor of Montgomery, and a Director of the Montgomery branch of the State Bank. He was also a Confederate Colonel.
Daniel Shipman Troy—Commander of the Confederate Military Prison that held up to 700 Union soldiers, most of whom were captured at Shiloh. –198 of the Union soldiers died in captivity and were buried at Oakwood Cemetery.
John William Augustine Sanford – a colonel in the 60th Alabama Infantry Regiment and Attorney General. He designed our state flag and it forever flies next to his grave.
E. Hunt – Moseby Raider of Virginia.
Major Henry Churchill Semple – He was a Confederate Artillerist who led Semple's Battery.
Christian Kreutner – served as a Captain at the Montgomery Arsenal and supervised the repairs of the Confederate arms. Mr. Kreutner was a gunsmith here in Montgomery.
Joseph Winter-Captain of the Metropolitan Guards and President of the Bank of St. Mary's. He was the owner of the Winter Building from which the telegram ordered the firing on Fort Sumter was sent.
Malcolm Daniel Graham -He was a member of the Texas Senate who served as a Confederate Colonel and was in the Confederate Congress.
George Goldthwaite – U. S. Senator from Alabama from 1871 until 1877, Circuit Judge, from 1843-1852 and Associate Justice of thew Alabama Supreme Court 1852-1856.
Frank E. "Zeke" Wilson -who was a National League pitcher in the 1800's.
Eddy Lee "Slim" Foster-who was a pitcher in the American League.
William Hardwick – There are so many notable people buried at Oakwood Cemetery and I know I have not included them all, but I want to mention one special young man William Hardwick. He was the great-grandson of John Caffey, one of the Revolutionary soldiers buried at Oakwood Cemetery. William Hardwick was born on September 17, 1846-. He ran away from home to join the Confederate Army at the young age of 15. He lied about his age to join the Confederate cause. He died in Mobile, Alabama on July 12, 1862, and his marker reads
"REST SOLDIER BOY".
Volume 18, Number 3 – Fall 2011 Montgomery Genealogical Society * July – December 2019
Editor's Note: If you have information about other notables at Oakwood, please email to Phillip Taunton, ptaunton@montgomeryal.gov. with cc to info@mchsal.org